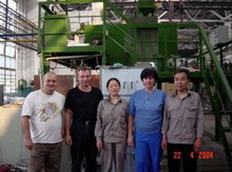 COMPANY PROFILE
Basalt Fiber & Composite Materials Technology Development (BFCMTD) and Basalt Fiber & Composite Materials (BF&CM) are research-and-production companies, which specializes in technologies development, equipment manufacturing, and industrial production organization. At the moment the companies offer the following technologies, equipment & materials:
• Industrial equipment for manufacturing of continuous basalt fiber (BCF);
• Industrial equipment for manufacturing of materials and composite materials on the basis of BCF;
• Industrial equipment for manufacturing of super thin basalt fiber (STBF), staple thin basalt fiber (TBF), basalt scale & the materials made on their basis;
• Energy saving technologies;
• High temperature composite materials.
CONTACTS
Basalt Fiber & Composite Materials Technology Development Co., Ltd
Address Hong Kong unit: Room 1803, 18F, Lucky Centre, #139-171 Wan Chai road, Wanchai, KL.
Chinese unit: Guoshoujing Road 188, Zhangjiang Hi-Tech Park, Shanghai, P.R.China, 201203
mob (PRC): +86 15652700705, +86 13162222147
mob (Kiev ): +38 (067) 4027633, +38 (098) 6162510, +38 (067) 5487939.
E-mail: basaltem@gmail.com, olga.osnos@gmail.com
PROPOSALS OF BFCMTD and BF&CM
Technologies and equipment for manufacturing of basalt fibers, basalt scales & materials made on their basis
1. Processing equipment for continuous basalt fiber (BCF) manufacturing.
Including: BCF1, BCF2, technological lines TE BCF 1000-1500
Selection of basalt breeds, which are suitable for manufacturing of fiber.
2. Technologies & equipment for basalt fiber materials manufacturing.
Equipment & technological lines for manufacturing of fabrics, nets, mattes, profile plastics, armature, composite materials
3. Continuous basalt fiber and continuous basalt fiber materials production organization.
4. Technologies and equipment for basalt super-thin fiber (STBF) manufacturing.
Equipment for basalt super-thin fiber manufacturing.
Including: BCTB 20M
Equipment of new generation, which obtains the best high productivity & power saving features.
Including: BSTF 20, BSTF 40
5. Equipment for manufacturing of basalt scales (BSc).
Including: BSk 20, BSk 60.
Energy saving technologies with industrial applications
• Energy saving technologies for high power-consuming industrial enterprises;
• Execution of projects of reconstruction of heating furnaces & thermal equipment with application of energy saving technologies and equipment;
• Reconstruction of furnaces & thermal equipment.
20-50% decrease in energy consumption (natural gas, LPG, coke gas, electric power).
High-temperature composite materials
High-temperature special application materials (glues, fettle materials, etc), products made of high-temperature materials (burner stones of gas & liquefied fuel -jets, special products).
PROFESSIONAL EXPERTISE & ACCOMPLISHED PROJECTS
Experts of the company are very experienced in developing, manufacturing, installation and launching of equipment for CBF and STBF manufacturing. Their portfolio includes projects in Ukraine, Russia and China. The leading expert of BFCMTD is Dr. Sergey Osnos, who is the best specialist in discovering & solving technical & technological problems. Dr. Osnos guided installation of two BCF factories in China (In Chengdu & in Shanghai), which were launched under No. 863 China State Program "The Continuous Basalt Fiber & Composite Materials on its Basis". To reach it's ultimate goals the company uses scientific approach & long-term experience of it's employees & partners. BFCMTD guided or directly participated in the projects in the following areas: BCF, STBF, TBF; basalt fiber materials; high-temperature materials; energy-saving technology (see "Accomplished projects" chapter). Examples of the accomplished projects in the areas of energy-saving technology, high-temperature & heat insulating materials are presented in the "Examples of energy-saving technologies application for industries ".
CONTINUOUS BASALT FIBER (CBF)
The company gives special attention to development of know-how in production of BCF.
BCF is the material for the 21st century. It has the best prospects in development of fiber production technologies. The technologies developed by BFCMTD and BF&CM allow manufacturing of high quality fibers with considerably low cost. The companies possess own patents for its technologies & know-how, as well as for the most part of specially designed equipment.
Meanwhile, there is a great interest to basalt breeds fibers & composite materials on their basis among the business people all around the world. There are several reasons behind this interest:
• Basalt technologies are new and they develop fast;
• Basalt fibers and basalt fiber materials have characteristics, which allow their wide application in different industries & construction, as well as the other areas.
• Basalt – a natural raw material for basalt fiber manufacturing – is accessible, cheap, natural recourses of it are huge.
• BFCMTD's and BF&CM's recent technological achievements made it possible to considerably lower the cost of BCF manufacturing, which now approaches the cost of glass fibers production.
COMPANY ADVANTAGES
BFCMTD and BF&CM technologies guarantee good work of equipment in a very difficult CBF production process.
Experts of BFCMTD and BF&CM can do preliminary analysis of BCF plant & can choose the best basalt-rock.
Equipment can be made from the local materials and components, as well as components from the best world suppliers, so that the best cost & quality is secured.
If there is a ready-to-use gas, electricity, water supply & suitable premises available, BFCMTD and BF&CM guarantee a very fast installation of equipment & launch of production.
BFCMTD and BF&CM can do a comprehensive analysis of the best organization of industrial production of CBF, fabrics & other products made on it's basis.
BFCMTD and BF&CM use its unique state-of-the-art modern equipment & energy saving technologies to secure the low cost of production and to reach the highest profitability for manufacturer of BCF.
BFCMTD and BF&CM can provide all range of services in BCF production, beginning from technological consultations and finishing with building the whole projects.
BFCMTD and BF&CM provide a new manufacturer with legal protection, based on it's technological & equipment engineering patents.
COPYRIGHT & LEGAL PROTECTION
BCF technologies & equipment are legally protected by personal patents. The company guarantees legal protection of BCF, STBF, and BSC industrial production, carried out with application of the delivered technological equipment.
PROFITABILITY & INVESTMENT RECOUPMENT PERIOD
BFCMTD and BF&CM offers processing equipment, energy-saving technologies, and integrated solutions for the optimal organization of production of BCF, fabrics & other products, which secures a high-level of economic efficiency. The comprehensive approach to manufacturing, installation & start-up of equipment & modular principle of technological lines construction make it possible to start manufacturing after 4 months, while production output reaches its designed capacity as early as in 9-10 months. Investment recoupment period for BCF & basalt fiber materials production plant is 1.5~2 years. Investment recoupment period for energy-saving projects is 6 months.
ENVIROMENT PROTECTION
Basalt – environmentally safe natural material – is used for basalt fibers production. Production technology is environmentally friendly; it does not produce any emission or waste – only natural gas combustion materials. No harmful liquid drain is produced during manufacturing process, because water is used in circulative mode. The only drain produced by plant is the one from household necessities. The only production waste material is rough fiber. A proportion of this kind of waste in production cycle of a well-established plant is around 5%. This waste material is easily utilized: it can be crushed & sold as a reinforcing material for concrete and asphalt-concrete.
The main mission of energy-saving technologies is to decrease consumption of energy during production by 20~ 60%, which has a beneficial impact on environment as well.
See also